Helping Cancer Patients Feel Better by Looking Better
Anyone suffering from cancer is yearning for normalcy. That's why Master Medical Aesthetician Janet Robbins has teamed up with Cosmetic Makeup Specialist Kelly Schreck to help cancer patients feel better by looking better. They are providing a select package of services specifically designed for those who have suffered from the skin and body effects of cancer and its treatments.
"We recognized a need that few are meeting in the Palm Beach County community, " Janet said. "Because we already have a passion for making a difference with clients, it made sense for us to get the necessary education and provide specialized services for those in distress."
Oncology Facials
Chemotherapy and radiation can cause a variety of skin issues including dryness, rash, decreased blood flow, irritation and inflammation. Common skin care treatments are often ineffective and may cause further damage. Oncology facials will soothe and repair the skin, improving skin tone, hydration and discomfort.
Every facial is customized to suit your individual skin issues. You will receive a completely relaxing treatment that will safely balance your skin so that if looks and feels refreshed.
Permanent Makeup
Hair loss, including loss of eyebrows and eyelashes, is a common result of illness and treatment. The hair on your head will most likely grow back, but permanent makeup may be the best option for your brows and lashes.
After careful review and consultation, Kelly will discuss with you the most beneficial course of action. Shaping, application and touch-ups will make sure your color is rich and you look natural.
Areola Cosmetic Tattooing
Kelly also puts on the finishing touches after breast reconstruction with tattooed areolas. She builds color over several visits to give you the prettiest look possible.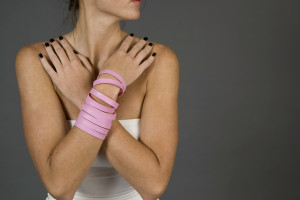 Beyond Cancer
Other conditions may also create the need for these specialized services. Alopecia, thyroid disease, a car accident or even a facelift can cause issues with hair loss and skin problems.
"Chemotherapy and radiation are lifesaving treatments, but when someone sees what they do to the skin and hair, it can be traumatic," Kelly explained. "What we're doing helps the soul because these treatments bring dignity to people who are fighting so hard."
May is Skin Cancer Awareness Month
When it comes to skin cancer, your first line of defense is protecting your skin from the sun. And in Florida, it's hard to stay out of the sun. So whenever you go outside, cover up and use a good sunscreen. Reflections Laser & Wellness Center offers an excellent line of Glymed professional skincare products, including sunscreen.
Your second line of defense is your medical aesthetician. That's because your skincare specialist is dealing with your skin on a regular basis and is trained to recognize when there is something of concern.
About Cosmetic Makeup Specialist Kelly Schreck
Kelly has been in the beauty industry for 15 years. Inspired by her mother, a two-time breast cancer survivor, she trained at the distinguished Make-Up Designory (MUD) in New York and around the world in a number of make-up specialties. She has mastered the art of microblading, which is the best method for natural looking hair strokes for the brow.